Get ready to hit the beach!
Edit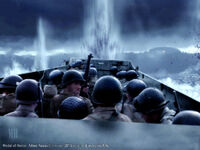 Welcome to the Medal of Honor wiki, soldier! There's a lot to do around here, so I hope you'll stay with us and make many more improvements.
Recent changes

is a great first stop. There, you can see what the other editors have been working on.
Questions? You can ask at the

Help desk

or on the

"discussion" page

associated with each article, or message me at

my talk page

. Or, ask an Administrator or Bureaucrat. Their names are highlighted in

green (administrator)

and

blue (Bureaucrat)

.
Need help? The

Community Portal

has an outline of the site, and pages to help you learn how to edit. Also make sure to read the

Manual of Style

so you know how to spot bad edits.
Please

sign in

every time you edit, so that we can recognize you avoid friendly-fire situations!
Good to have you here, and I'll see you on the beach!
Jack of All (talk) 17:02, July 15, 2014 (UTC)
I know it's not fanon,i'm just pointing out that there's a character name finn in Mission 5 of Medal of Honor: Allied Assault.
Plus,Phil sounds more of a 1st name.
(71.8.94.175 09:47, November 30, 2018 (UTC))
Mike Powell
Edit
Thank you for warning me about the problem. I put the page: Mike Powell under protection so only admins and content moderators can edit it. I search through the wiki and delete any non cannon characters. 
Hatake98 (talk) 14:37, June 14, 2019 (UTC)
Mike Barnes
Edit
Why did you rename the page from "Mike Barnes" to "Barnes"?
Medal of Honor Fanon Wiki
Edit
wanna be part of the Medal of Honor Fanon Wiki?
(71.8.94.175 10:14, June 20, 2019 (UTC))
Community content is available under
CC-BY-SA
unless otherwise noted.