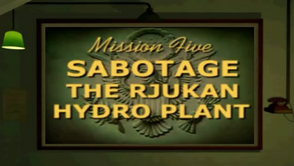 Sabotage the Rjukan Hydro Plant
is the fifth mission in
Medal of Honor'. The mission is divided into four levels: The Roaring Penstocks, Generators of Destruction, Betrayal in the Telemark, and Heavy Water.
Background
Edit

Stop Water Flow in Central Pipe
Destroy all Power Relays
Shut Down Main Power Grid
Enter Hydro Plant
Disable all Generators
Shut Down Flow to Heating Tanks
Destroy all Research Files
Locate D20 Output Report
Locate Elevator
Open Emergency Release Valve
Divert Heavy Water Vats
Acquire Delivery Schedule
Locate Garage
Disable Truck
Disable Both Trucks
Disable Power Station
Sabotage Ferry
The enemies in this mission are better armed than in previous missions. Many soldiers are armed with
submachine guns
and will use cover to their advantage. It is not uncommon to find a group of soldiers all armed with submachine guns. This is also the first time when you encounter soldiers armed with
bazookas
.
Arctic Trooper
Nefarious Scientist
During the war, the British and Norwegian Resistance tried numerous times to disrupt the production of Heavy Water at Rjukan. On one of these occasions a ferry was destroyed carrying Heavy Water out of Rjukan.
The track used in this level, Rjuken Sabotage (yes, the name "Rjukan" is misspelled in the soundtrack), is considered one of the prime pieces of the game's score, as it is a scherzo (light, quickly played piece) comparable to John Williams' "Scherzo for Motorcycle and Orchestra" from Indiana Jones and the Last Crusade. The track has also been featured in theatrical trailers.
Music List
Edit
The Roaring Penstocks
Edit
Generators of Destruction
Edit
Betrayal in the Telemark
Edit
Heavy Water
Edit
Community content is available under
CC-BY-SA
unless otherwise noted.