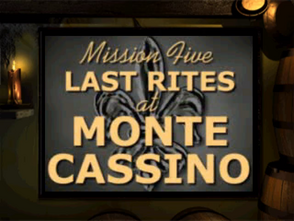 Last Rites at Monte Cassino
is the fifth mission in
Medal of Honor: Underground
. The mission is divided into three levels: Roundabout, Prisoners of War and Mayhem in the Monastery.
Background
Edit
Manon volunteers to go a new mission to infiltrate the abbey at Monte Cassino (before the planned aerial bombardment) to investigate a monk's claim that there are American Airmen of the 8th Air Force being held prisoner in the abbey. After getting past difficult obstacles into the abbey, Manon finds that the claim is true. With the aid of the Commanding Officer of the airmen, Manon liberates the prisoners and destroys the command center. She then proceeds to destroy all the halftracks and supplies around the abbey.
Briefing
Edit
Disable guard tower
Destroy supply trucks (6 in total)
Destroy supply depot
Locate crypt entrance
Free captain
Rescue pilots from cells
Protect captain
Destroy war room
Eliminate command staff
Locate quartermaster ledger
Destroy munitions
Destroy supplies
Destroy all half-tracks
Characters
Edit
The enemies are Wehrmacht soldiers armed with MP-40s, Stens and rifles. In the third level there are also four halftracks.
Historical Inaccuracy. The date this mission takes place is June 15, 1944, but the aerial bombing on Monte Cassino happened from January to February, so the mission would have to take place before February 15, 1944 when the Abbey was almost completely destroyed. At the time of June 1944, the battle of Monte Cassino was over.
Music List
Edit
https://www.youtube.com/watch?v=1MK-gITH3EI&index=12&list=PL0B0017FDB279F2F4
https://www.youtube.com/watch?v=A_YhXd6qT28&list=PL0B0017FDB279F2F4&index=13
https://www.youtube.com/watch?v=sIXfcIHT1NU&list=PL0B0017FDB279F2F4&index=14
Community content is available under
CC-BY-SA
unless otherwise noted.