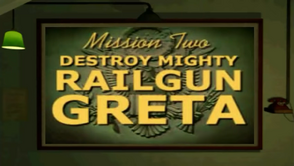 Destroy the Mighty Railgun Greta is the second mission in
Medal of Honor
. The mission is divided into four levels:
Sneak into the Rail Station
, Find the Gift Package, Rail Canyon, and Meeting Greta.
Background
Edit
The Germans have been using the railway gun Greta against allied shipping in the English Channel around Normandy. Allied bombers have tried to bomb Greta but failed to do so as the railgun can be moved quickly. Therefore, Patterson is assigned the job of destroying Greta. Some of Patterson's first tasks are to send the support train in the wrong direction, obtain a list of German factories and destroy Greta's reserve engine. Patterson does all these objectives in the nearby train station. After leaving the station Patterson enters the rail canyon. The tracks at the rail canyon go all the way to Greta. Getting closer, the sound of Greta gets louder. Patterson finds the railgun and destroys it with explosives, thus silencing the weapon and freeing allied shipping.
Briefing
Edit
Switch Tracks
Obtain Ausweis Blau "ID Blue"
Obtain Ausweis Rot "ID Red"
Steal Freight Manifest
Obtain Ausweis Rot "ID Red"
Find Gift Package
Disable Reserve Engine
Follow rails to rail tunnel
Procure Grenades
Destroy Fuel Containers
Exit Canyon to Railgun
The enemies in this mission are identical to the ones faced in the last mission. This time, however, more soldiers are armed with submachine guns.
Gestapo Agent
Gestapo Officer
During World War II, the Germans and British both had weapons that could fire into the English Channel. Both sides were known to use railway guns often against each other's ships.
Despite Patterson already getting an Ausweis Rot in the level "Sneak into the Rail Station", he has to collect another one in "Find the Gift Package".
During Medal of Honor: Allied Assault, the player walks past the destroyed Greta in one of the missions. The mission also takes place in the same canyon and the player continues on past where the level ended leading to a command bunker.
Inconsistency - There is no way Manon Batiste could be coordinating this mission for Patterson as she is currently engaged in the mission Last Rites at Monte Cassino, which takes place on exactly the same date.
Music List
Edit
https://www.youtube.com/watch?v=y2uHoFBDZtY&list=PL97006F896F6A5D2D&index=4
https://www.youtube.com/watch?v=khv3su5pbwY&list=PL97006F896F6A5D2D&index=5
https://www.youtube.com/watch?v=LZoukKmtvCk&index=6&list=PL97006F896F6A5D2D
https://www.youtube.com/watch?v=3SKaWZZ_4es&index=7&list=PL97006F896F6A5D2D
Community content is available under
CC-BY-SA
unless otherwise noted.