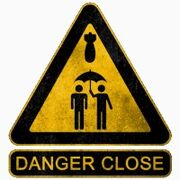 Danger Close Games is a team of game developers formed within EA Los Angeles. This studio was made to design the singleplayer aspect of Medal of Honor (2010), while another company from EA, DICE, worked on multiplayer. The success the game went on to become spawned a sequel, Medal of Honor: Warfighter. However, the lack of critical and commercial success for Warfighter led to Danger Close (and EA Los Angeles) being left without any games to develop after the series went on hiatus on January 2013. It was then turned into DICE Los Angeles, a division of EA Digital Illusions CE, in May 2013, which now works on post-launch support for the recent installments of the Battlefield series.
Games Developed
Edit
Medal of Honor (2010)
Medal of Honor: Warfighter
Major Personnel
Edit
Greg Goodrich - Executive Producer
Kristoffer Bergqvist - Creative Director
Steven Spielberg's son, Max, worked with Danger Close Games. He also helped inspire his father to come up with the idea of the series back when Dreamworks Interactive existed, after he watched him playing GoldenEye 64.
The Zero Dark Thirty Map Pack for Medal of Honor: Warfighter features a weapon camo that shows the names of the employees in Danger Close Games on it, called the "Dev Team Camo". Players can earn the camo by killing a Danger Close Games employee or someone who has already earned the camo in-game.
External Links
Edit
Community content is available under
CC-BY-SA
unless otherwise noted.