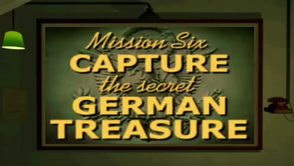 Capture the Secret German Treasure is the sixth mission in
Medal of Honor
. The mission is divided into three levels: Mountain Pass, Merker's Upper Mine, and Treasure Caverns.
Background
Edit
Since the beginning of the war the Germans have been plundering the occupied countries of their valuable wealth; this includes art and gold. Now that they are losing the war, the Germans have decided to destroy the treasure least it falls into allied hands. Therefore, Patterson is ordered to stop the Germans from blowing up a salt mine that houses valuable art treasure. On his way to the mine, Patterson destroys the garrison's generator fuel. The upper level of the mine has Demo Squads that are preparing explosives; Patterson kills the squad and makes his way to the lower mine. There he disarms the already prepared explosives and fights his way out of the mine.
Briefing
Edit
Destroy Generator Fuel
Locate Mine Entrance
Eliminate 8 SS Demo Squad Members
Recover Dahood Manuscript
Acquire Elevator Key
Locate Elevator
Locate the Curator Inventory
Locate and Disarm All Bombs
Characters
Edit
Without doubt the enemies in this mission are some of the hardest to beat. Not because of their numbers or accuracy, but their armament. Many German soldiers are armed with Panzerschrecks; especially the ones in the mines. One shot from one of these will instantly kill the player. It is not uncommon for enemies to attack the player from behind.
Arctic Trooper
Waffen-SS Light
Waffen-SS Demo Squad
 Inconsistency - In the briefing Patterson is sent to the Austrian salt mine in Altaussee, but in the game he goes to the Merker's salt mine which is situated in Germany, Merkers-Kieselbach.
Altaussee is incorrectly spelled "Alt Aussee" in the mission briefing
Steinburg was not the name of the salt mine itself, but the name of a tunnel extension which opened in 1319.
 The stolen paintings shown during the briefing include:
Music List
Edit
Mountain Pass
Edit
https://www.youtube.com/watch?v=0ywEQgmmc5Y&index=19&list=PL97006F896F6A5D2D
Merker's Upper Mine
Edit
https://www.youtube.com/watch?v=Q4rvab1ogS0&list=PL97006F896F6A5D2D&index=20
Treasure Caverns
Edit
https://www.youtube.com/watch?v=8yGrg3U9tCU&index=21&list=PL97006F896F6A5D2D
Community content is available under
CC-BY-SA
unless otherwise noted.